Our Veterinarians
Symphony Veterinary Center has a skilled team of veterinarians who welcome you to our practice. Proudly serving the New York. At Symphony Veterinary Center, it is our daily privilege to provide quality vet care to your cherished pet, with compassion and competence. We hope to ensure a positive impact on our patients, pet owners and the local community.
Deborah Levison
VMD - Managing Veterinarian
Dr. Levison graduated from Tufts University with a BS in Biology-Psychology. She received her veterinary degree from the University of Pennsylvania in 2007, then completed a rotating internship in general medicine and surgery at the Animal Medical Center. She joined the staff of Symphony Vet Center after finishing her internship in 2008, and became the Managing Veterinarian in 2017. She enjoys soft tissue surgery, internal medicine, and dermatology. As a USDA accredited veterinarian, she can issue international health certificates and assist in travel planning. In addition to dogs and cats, Dr. Levison treats rabbits and other small mammals. A native New Yorker, she lives in Brooklyn with her husband and daughter.
Sarah Schoenhut
VMD - Veterinarian
Dr. Schoenhut graduated from Bucknell University with a bachelor's degree in psychology. She initially planned on going into finance; however a class in Ornithology and a surprise love of birdwatching caused a change of heart. She went back to school to Columbia University to obtain her post baccalaureate pre-veterinary certificate, then moved down to Philadelphia to receive her veterinary degree from University of Pennsylvania. She completed a rotating internship in general medicine and surgery at Blue Pearl Veterinary Partners in New York City, spending time at their Manhattan, Brooklyn and Queens's hospitals.
Originally from Long Island, she currently lives on the Upper West Side with her fabulous feline, Luca Bella. She enjoys running through central park, visiting museums, and enjoying all the delicious restaurants the city has to offer.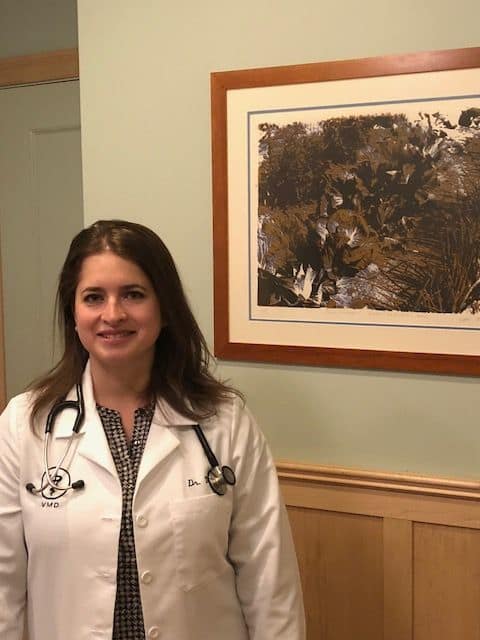 Alanna Toll
VMD
Dr. Toll graduated from Barnard College with a BA in Biology. She received her veterinary degree from the University of Pennsylvania in 2006 and completed a rotating internship in small animal medicine and surgery at Fifth Avenue Veterinary Specialists in 2007. Originally from Philadelphia, she lives on the Upper West Side with her husband and their children.
Deepti Johar
DVM
Dr. Johar was inspired to become a veterinarian after witnessing the plight of stray dogs in India. She received her veterinary degree from Ross University, with a clinical year at The Ohio State University. She practiced in Indiana before moving to New York City, and has been working in Brooklyn and Manhattan for the past two years. Dr. Johar is passionate about dental health and radiology.
When Dr. Johar is not taking care of your pets, she can be found playing tennis and exploring the sights and restaurants of New York City. She adores her cats Mishka and Orev, both adopted during veterinary school. She looks forward to partnering with you to keep your pets healthy and happy!
Megan McGlinn
VMD - Veterinarian
Dr. McGlinn completed her doctorate at University of Pennsylvania School of Veterinary Medicine and her post doctoral internship at the Animal Medical Center in Manhattan. She works part time at Symphony and lives in Manhattan.
Patrick Hopper
DVM, Dipl ACVIM
Dr. Hopper has been a consultant with Symphony Vet Center for 13 years. He graduated from the University of California at Davis School of Veterinary Medicine in 1983. He is a Diplomate of the American College of Veterinary Internal Medicine and specializes in internal medicine. He is an accomplished ultrasonographer and internist and performs echocardiograms, abdominal ultrasounds, biopsies and endoscopic examinations at our vet center.
Jane Kosovsky
DVM
Dr. Kosovsky has over 25 years of experience in both orthopedic and soft tissue surgery. She graduated from the Ohio State University College of Veterinary Medicine. She completed her internship and Surgical Residency here in New York City at the Animal Medical Center. Dr. Kosovsky has been a consulting surgeon here at Symphony Veterinary Center since its opening.